When considering the impact of influencers, we might immediately think of a high follower count or skyrocketing engagement rates on social media.
However, these influencers aren't limited to social media. And they can be a great way to promote all the amazing things about your community college. From parents to friends, high school counselors, and coworkers, research proves that students value opinions from people in their personal lives the most.
Who Are the Influencers?
According to this study by Nielsen, 92% of people trust recommendations from friends and family over any other marketing medium. This trend shows in our Media Preferences research (below), so it rings true for colleges as well!
As community college marketers, we can tap into these influential voices and shape them for good! But how do we accomplish this? That's where student influencers come into play.
At our recent Interact Rounds Webinar, Tapping into Student Influencers, two experts gave insight about their respective college influencer programs.
The outreach program manager at MiraCosta College, Jonathan Gómez, talked about his experience overseeing the 20 to 30 students in the college's ambassador program. Gómez also connects with local K-12 schools, and details how he incorporates the student ambassador program into his outreach efforts.
The second panelist also comes with a wealth of experience. The director of creative services at the Community College of Baltimore County, Jodi Neal, helps facilitate the Fresh Faces of CCBC program. Neal also serves as a District 1 director for the National Counsel for Marketing and Public Relations (NCMPR).
The webinar, hosted by Alana Villemez, Interact's VP of business development, took a deep dive into how to best engage with community college influencers.
The content touched on all areas of student influencers, including making sure your college's paid, earned, and owned influencers are all cohesive in conveying your college's story the way you want it to be told.
In this post, we'll offer a checklist you can use to help craft your college's student influencer program, according to the experts from our webinar!
Why Choose Student Influencers?
There are plenty of benefits to integrating student influencers into your marketing plan.
For example, your students know your college the best. They all have a unique story about why they chose your college. Not to mention, they know how to find the resources on your campus that benefit students the most.
Speaking of your campus, community colleges are the perfect hubs for influencing. Community colleges hold a prominent role in their communities and facilitate hundreds of connections between students, faculty, community members, and business owners.
Plus, using influencers is cost-effective! You could enlist these student influencers for class credit, a work-study program, or even as volunteers.
Influencer programs additionally have benefits for both your college marketing and student development. They allow students to learn valuable leadership, communication, organizational, and time management skills.
Ready to tap into your college's influencers and kick off your student influencer program? Follow our checklist below!
Checklist for Kick-Starting Your Student Influencer Program
Assess Your College's Current Influencers
Before kicking off your student influencer initiative, consider who your college's current influencers are.
Think about your student enrollment. How did your students find your school? Whether through high school counselors, parents, or coworkers, considering these voices is vital when analyzing your college's current marketing plan.
You can categorize these voices as paid, earned, or owned influencers in your college's marketing. Here are a few examples to understand where these could fit into your college:
Paid: Digital ads and sponsored content
Earned: Alumni and students sharing their experiences
Owned: Your college's social media channels and website
From there, consider how student influencers will fall into your marketing plan.
Set up the Framework
It's time to determine the logistics of the program. An influencer program will help with your college's recruitment and benefit your participating students. And with about 54 percent of Gen Z saying they would become an influencer if given a chance, this is an excellent opportunity to help them gain some experience!
Decide if you will offer the program for students as a work-study, for credit, or as a volunteer opportunity. Create a solid timeline, parameters like the number of student participants, and other requirements like office hours or specifics on how to log their time.
Gómez, outreach program manager from MiraCosta College, says their student ambassador program incorporates student influencers into more than just social media.
"These students do peer mentoring at our local high schools, they're our tour guides on campus, they provide event support," says Gómez. "The college looks at them as representatives that can be used for a lot of different things."
Once your college sets solid parameters for the program, the next step is enlisting the right students for the job!
Find Your Student Influencers
Scoping out the right students for the job is essential. The goal is to find students who encompass and represent the best parts of your college.
To zero in on these students, you need to spread the word! Hang up flyers, post on your college's social media, send emails, and gather some promising leads.
Also, consider setting some guidelines in the application. Examples include the following:
Minimum GPA requirements
Submitting letters of recommendation from faculty or employers
Analyzing students' current social media profiles
Keep in mind that you should choose students who represent all the diverse learners your college serves. For example, you can create an influencer team of students from varying clubs and organizations, backgrounds, career pathways, international student programs, and educational pursuits.
Neal, director of creative services from CCBC, says their Fresh Face program looks for influencers who are exceptionally passionate about the college. She says they choose students "who want to be out there, who want to be advocating."
Create Your Content
Now it's time to create some content! There are many opportunities for creating content, and community colleges are practically built to influence. From your unique campus to your helpful faculty, resources, campus events, and more, there are many possibilities.
Some examples of content for your student influencers could include the following:
Highlights from special events on campus
Tutorials for campus resources
Videos and photos from sporting events
Tips and tricks for other students
Focus on what makes your college unique! For MiraCosta College, Gómez says student influencers often post about the scenic views of the Pacific Ocean that can be seen from campus.
You can use this guide as a place to start exploring possibilities. Get creative and collaborate with input from your team of student influencers.
Measure Your Success
Along the way, you'll want your student influencers to help keep track of ROI, such as engagement and impressions on their social media posts. Creating a spreadsheet for your student influencers to share with you is an easy tactic to keep organized.
Also, evaluate the timeline of your influencer program and monitor elements like enrollment and website impressions. You can modify your influencer program based on your success or where you might need to improve.
Student influencer programs can be tricky to nail down, but Neal says you'll find success if you spend the time setting them up.
Neal says, "It's the enthusiasm and the realness that connects with incoming students!"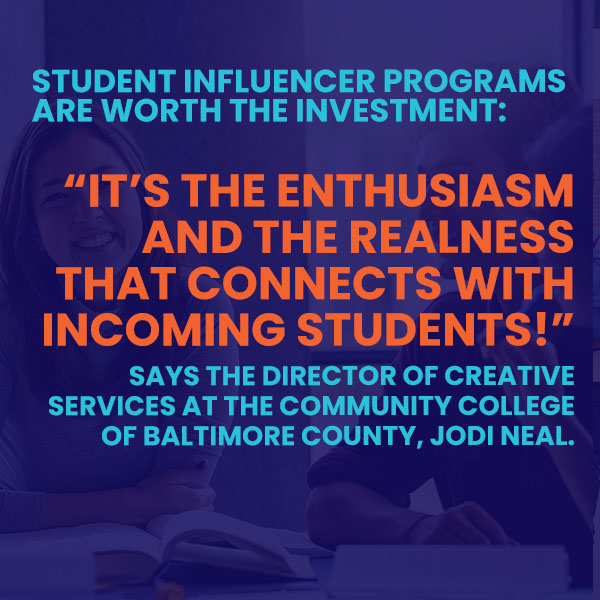 Things to Keep in Mind
After going through this checklist, be sure to keep a few factors in mind while crafting your student influencer program:
Appeal to Both Prospective and Current Students
Your student influencer program will benefit your recruitment and should also help retention! Incorporate content that will appeal to both new students and your current students on campus.
Be Sure to Jump on Trends
Encourage your student influencers to participate in online trends while adding your own community college twist. Doing so will help promote your college and get other students to share and engage with their posts, resulting in more focus on your school!
Collaborate with Other Departments on Campus
If you're looking for more great ideas or input, reach out to other departments on campus! It will make for some great content, plus you can help shine a spotlight on what they have to offer for students.
To Wrap Up
Creating your student influencer program should focus on your college's unique aspects. Reach out to other colleges who have successfully implemented these programs for advice and guidance. And we're here if you need help!
Share This Story